The saying goes that the dog is man's best friend, but many would argue that the horse has a much greater claim to that title. Ebubekir Sınmaz agrees with that notion and that is why – in his spare time from his job as a physical education teacher – he voluntarily takes care of horses in Türkiye's Nevşehir, galloping between the fairy chimneys.
Forty-one-year-old Sınmaz can be seen donning his riding clothes after work hours on weekdays and for most of the day during weekends. He works at Derinkuyu Mehmet Akif Ersoy Secondary School and is inseparable from the horses he has admired since childhood.
Sınmaz, who goes to the horse farms that organize tours for tourists visiting Cappadocia, volunteers for the daily care of horses whom he refers to as "the best friend (one can have)."
Sınmaz, who feeds the horses, grooms them and cleans their mange, then goes for a nature trek on horseback.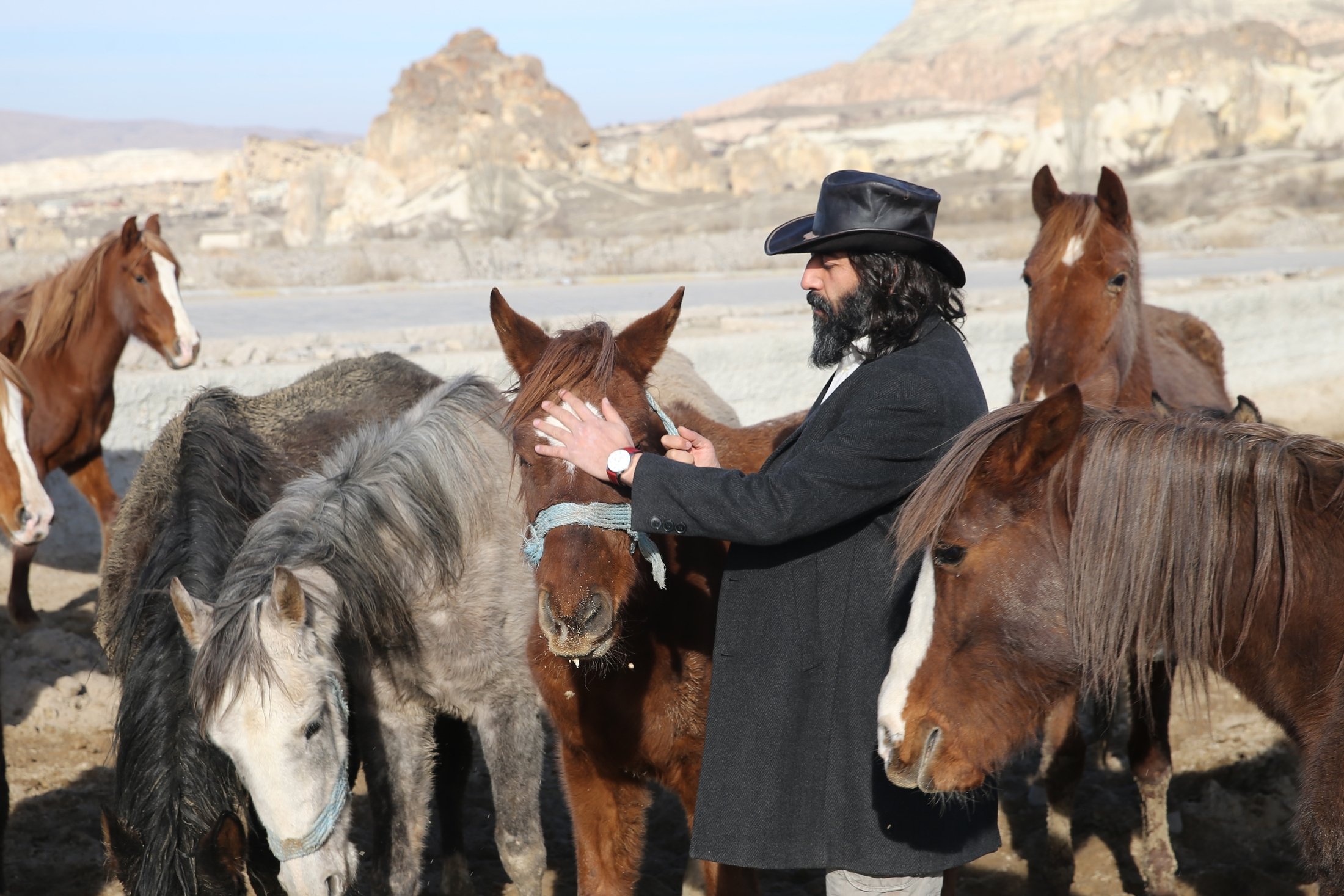 He explained that when he was a child, watching movies starring Cüneyt Arkın – who was one of the most prominent Turkish film actors of all time – he became interested in horse-riding and imagined himself on a horseback.
Explaining that he took the opportunity to increase the number of horse farms in Cappadocia in recent years and participated in Turkish Equestrian Federation training, Sınmaz stated that he has improved himself in the field of equestrianism.
He said that he has been galloping around the valleys of Cappadocia almost every day for eight years now.
"I spend most of my time at horse farms after school. We became friends with the owners of the farms here. For most of my time after work, I visit the farms. I clean, groom and saddle horses. If there are horses to work with, I train them," Sınmaz told Anadolu Agency (AA).
"I used to watch Cüneyt Arkın's movies a lot during my childhood. His riding and dealing with horses inspired me. I used to say to myself, 'Why can't I ride like that?' An opportunity arose, and thanks to my Cüneyt Arkın inspiration, I rose to this level. Whenever I have a chance at school, I also tell students about their love for horses, I try to bring students to farms. As such, I began to be known as the 'horse-whisperer teacher' in the education arena. This makes me proud."
Sınmaz, who draws attention with his hat, outfit and boots, stated that he took part as a rider in some commercials and promotional films shot in Cappadocia and that he was pleased to come to the fore with horse-related issues.
He emphasized that horse riding is the most valuable hobby he has developed over the years.
"Getting on a horse, galloping on the field, and hearing those horseshoe steps fill me with peace. There is nothing more pleasing than riding a horse between fairy chimneys, running a horse at full gallop and feeling the sound of horseshoes. This love for horses, this love of mine, I think will continue until I die," he concluded.
.