Loading
Dalgleish said there was no easy short-term fix and schools had to consider combining classes and recruiting fourth-year teaching graduates.
He said the problem was as much about getting new teachers as retaining current ones.
"We know many are retiring as they get towards the end of their career and some are saying, 'No, I'm leaving early because I'm burnt out'. We are saying, 'Why? How do we keep you in the system?'"
Berwick Lodge Primary School principal Henry Grossek said a "dark cloud of teacher shortages" was looming, and he knew of colleagues desperately trying to fill positions.
Grossek said under current conditions, it was impossible for schools to deliver the same consistency, breadth of program and continuity for students as before the pandemic.
"It's intuitively obvious that that sort of uncertainty, disruption, lack of continuity will affect children feeling comfortable at school," he said.
"At the end of the day we come here, we want it to work, we put a smile on, we work really hard at it, but we have to remember there is a personal cost to teachers and principals in being under this sustained pressure. to deliver a quality education with so many things making it hard to do that."
Australian Principal Federation Victorian president Tina King said schools had to redirect additional extracurricular programs and resources because of the workforce shortages and factors such as time-in-lieu requirements, expected reduced voluntary parental payments and the impact of COVID-19.
"They are struggling. Principals have worked from July on recruitment. We are not getting the number of people and individuals we need coming from outside the system," she said.
Loading
King said some schools had to redirect teachers to fill vacancies in essential classes such as English and maths.
"There has been an active recruitment campaign for overseas teachers … we're going to start seeing them flow in, but the situation is dire," she said.
But education recruitment company anzuk director Daniel Mundy said things were moving in the right direction.
He said teaching recruits would arrive in Australia from South Africa, the UK and Canada in the next six months, and expected more than 1000 teachers from overseas to arrive through 2023, depending on visas and school sponsorships.
Independent Education Union deputy secretary David Brear said the intensity of teaching work, excessive administrative burdens, constant reform and a lack of support in the classroom had taken a toll.
Number of Victorian teaching registrations
In 2020, there were 136,470 registrations.
In 2021, there were 138,340 registrations.
In 2022, there were 141,454 registrations.
"Too many teachers are leaving the profession early, in many cases, as a result of workload-related burnout, and these same reasons are causing many prospective teachers to think twice," he said.
The state government has invested millions of dollars into fast-tracking pathways for professionals to enter teaching, such as Echuca winemaker Trent Eacott.
Eacott, 38, is taking a midlife career change and has swapped 18 years of long harvesting days at a vineyard for the classroom.
The father of three started a two-year program with Teach for Australia (TFA) in November and is already teaching chemistry and agricultural science at Echuca College. For him, the teacher shortage presented an opportunity for a safe career change.
TFA has 142 "associates" in Victorian schools this year.
"For me, it was time for a change and I started to look into my strengths and where I think I could make a difference," Eacott said.
Australian Education Union president Meredith Peace said the staffing gaps were deeply concerning, with schools redirecting staff from the tutor learning initiative, reducing curriculum and combining classes to cover absences.
The union wants retention payments for existing staff, cost of living support for pre-service teachers, funded job placements for pre-service teachers, more targeted and funded support for early career teachers and support to reduce teacher workload.
A Department of Education spokesperson said the overwhelming majority of government schools were fully staffed for the start of the school year and the delivery of programs was expected to continue as normal.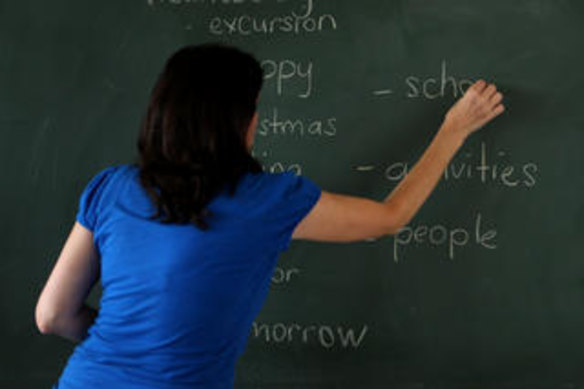 "Our successful recruiting campaigns have resulted in 5,000 more teachers being registered in Victoria at the end of 2022 compared to 2020," the spokesperson said.
The department reached out to inactive teachers to return to schools and over 900 intended to return, having been identified for suitable roles.
This year's Victorian budget includes $779 million to recruit 1900 extra teachers and $58.9 million over four years to attract and develop quality teachers in all schools.
Federal Education Minister Jason Clare said the state's education ministers last year signed the National Teacher Workforce Action Plan, which included funding for more university places and scholarships, and co-funding a campaign to raise respect for the profession and tackle teacher workload.
"The idea that teachers clock on at 9am and knock off at 3pm is rubbish. They work longer hours than teachers overseas and spend less time teaching in the classroom than teachers in other countries," Clare said.
The Morning Edition newsletter is our guide to the day's most important and interesting stories, analysis and insights. Sign up here.