Attendees listen to the Senate from the gallery at the Capitol in Salt Lake City on Wednesday. The Utah Senate gave preliminary approval Wednesday to legislation that addresses education in the state. (Jeffrey D. Allred, Deseret News)
Estimated read time: 6-7 minutes
SALT LAKE CITY — The Utah Senate gave preliminary approval Wednesday to legislation that will provide $8,000 scholarships to qualifying families for private schools and other private education services and give licensed educators a $6,000 compensation bump.
The Senate debated the bill for nearly 50 minutes before voting 20-8 to approve it. The vote was mostly split along party lines, with two Republicans joining the six Democrats in opposing it.
A final vote is scheduled for Thursday, said Senate President J. Stuart Adams, R-Layton.
Senate Majority Assistant Whip Sen. Kirk Cullimore, R-Sandy, Senate floor sponsor of HB215, told Senate members that the bill "is not an indictment in any way on the public education system. This bill is not about private education versus public education. I am convinced that there can be a win-win situation in our state where we can continue to fund, support and grow public education, while also providing an opportunity for every child that may need to find more unique circumstances for their education."
After the vote, Cullimore said the scholarship fund "wouldn't even meet 5,000 kids statewide, so the immediate effect on public school, in my view won't even be felt, really. What will be felt and what has been overlooked is the teacher pay increase, which I understand is the largest teacher pay increase in the state of Utah."
"So my hope is that as the dust settles, that is what's felt," Cullimore said.
The bill creates the Utah Fits All Scholarship, which can then be used for education expenses like curriculum, textbooks, education, software, tutoring services, micro-school teacher salaries and private school tuition, Cullimore said. State funding for the program's inaugural year is capped at $42 million.
"We have worked tirelessly to ensure that the bill has the necessary guardrails and protections in place for parents, students, private schools and homeschool families," he said.
---
My raise shouldn't be dependent upon private school choice. They aren't connected.
–Rilee Pickle, educator
---
Following the vote, Sen. Kathleen Riebe, D-Cottonwood Heights, said Wednesday's Senate action was "frustrating," especially considering superintendents from across the state, along with groups and UEA, PTA, Eagle Forum, all oppose the bill.
"There is very little support for this bill outside of this body," Riebe said. "It's frustrating because we have so much time left in this session this could be worked on."
"It's disappointing as a teacher, and it's disappointing as a senator."
Sen. Karen Kwan, D-Taylorsville, attempted to substitute the bill to split the scholarship program from teacher compensation, but the motion failed.
"Many educators said that they feel like pawns in some sort of strategy to pass the scholarship. I don't think this message is fair to teachers who already feel overburdened, and I also don't think it's fair to the sponsors and to my colleagues, because this is not, I do not believe, the intent of putting them together," Kwan said.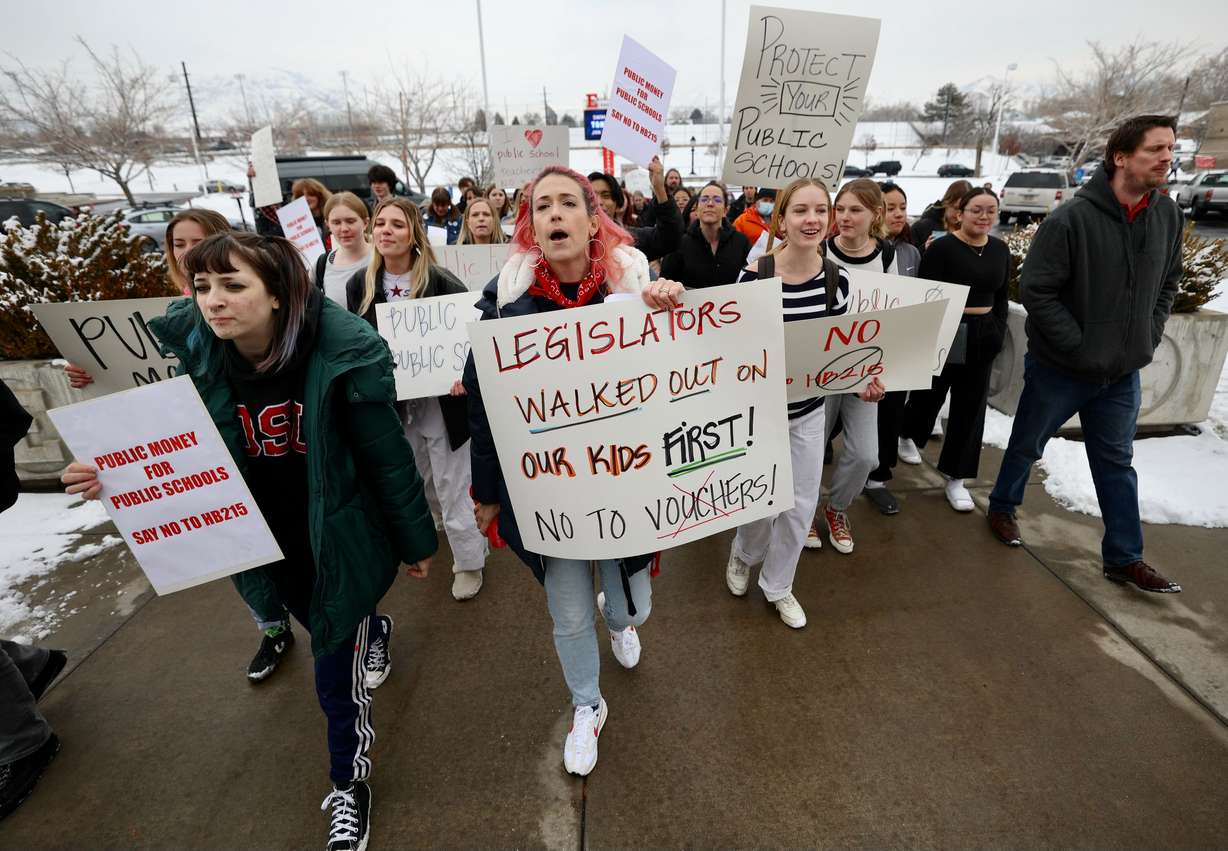 Senate Minority Leader Luz Robles, D-Salt Lake City, proposed an amendment over concerns about potential discriminatory acts at private schools, which are prohibited under federal law if they receive federal funding. Most private schools do not receive federal funding so they are not subject to the same regulations as public schools, she said.
"I don't think we want our state monies to have anything to do with discrimination against children," she said. The amendment was defeated on a voice vote.
Responding to questions about accountability, Cullimore said parents who accept the scholarship must either submit a child's portfolio or have them take standardized assessments,
Senate Majority Whip Ann Millner, R-Ogden, a former president of a public university, said the fundamental issue with the bill is that every child learns differently.
We need to have multiple opportunities for kids so we can find the best setting for them to reach their full potential," she said.
As the Senate debated HB215, teachers in some Salt Lake schools wearing #RedForEd T-shirts, walked out of school for 15 minutes in protest of the bill.
About 20 teachers walked out of West High School to protest public money being used for private education choices.
---
We have worked tirelessly to ensure that the bill has the necessary guardrails and protections in place for parents, students, private schools and homeschool families.
–Sen. Kirk Cullimore, R-Sandy
---
"My raise shouldn't be dependent upon private school choice. They aren't connected," said one educator, Rilee Pickle.
"I do believe parents have the right to choose where their kids go to school, but I don't believe that they should be sponsored to go to private schools or homeschool with public funds. That's money that belongs to public schools," said Pickle. , speaking on her own behalf.
Another educator said she was disappointed the Senate adopted none of the proposed amendments or a substitute bill.
"Instead, the Senate decided that they do not want to equitably fund public education and protect our most vulnerable students. As a public school teacher, I will continue to uphold the ethical and professional standards of my license and in turn continue to serve all populations. and legally accommodate a wide range of diverse and brilliant learners —something that parents would have to waive in accepting this voucher," said Nicole Wilson Steffes, speaking on her own behalf.
HB215, sponsored by Rep. Candice Pierucci, R-Riverton, is a sea change in Utah education policy in that it expands the use of public money for private education choices far beyond existing programs for families of children with disabilities.
---
A voucher bill does nothing to support educators and public schools.
–Renee Pinkney, UEA president
---
In 2007, 62% of Utah voters repealed a school voucher law enacted earlier that year. The multimillion-dollar political campaign pitted teachers' unions nationally against school choice advocates. No universal choice legislation had passed the legislature in succeeding years, although HB215 appears to be on track not only to pass but to be approved by a margin that could not be challenged by a referendum.
The bill sailed through the Utah House of Representatives last week, approved on a vote of 54-20, despite opposition from the Utah Education Association, the Utah State Board of Education and the professional associations of Utah school boards, superintendents and school business administrators.
Opponents of HB215 have argued that Utah's public education system is underfunded and tax money should solely support public schools. Some lawmakers who represent rural Utah oppose the bill because there is a dearth of private education options off the Wasatch Front and the bill would primarily benefit families in urban areas.
But proponents say their children have not succeeded in Utah's public schools and they want the option of private education services. Pierucci said the $42 million attached to the bill will prioritize the needs of low- to middle-income students, offering around 5,000 scholarships starting the 2024-2025 school year.
Under the bill, the Utah Legislature will appropriate $196.9 million for the educator salary adjustment, which will be offered to teachers who hold Utah State Board of Education licenses or other professionals licensed by the Division of Professional Licensing including social workers, psychologists, speech pathologists, librarians or media specialists, preschool teachers, mentor teachers, teacher specialists or teacher leaders, guidance counselor or audiologists.
Earlier this week, UEA President Renée Pinkney, addressing a rally at the Capitol, said the salary increase should not come with strings attached to pass the private school scholarship bill.
"Lawmakers should focus on providing solutions to our public schools' most urgent needs, like large class sizes, increased student behavior issues and severe staffing shortages. A voucher bill does nothing to support educators and public schools," she said.
Contributing: Katie McKellar
×
Related stories
Most recent Education stories
More stories you may be interested in
.